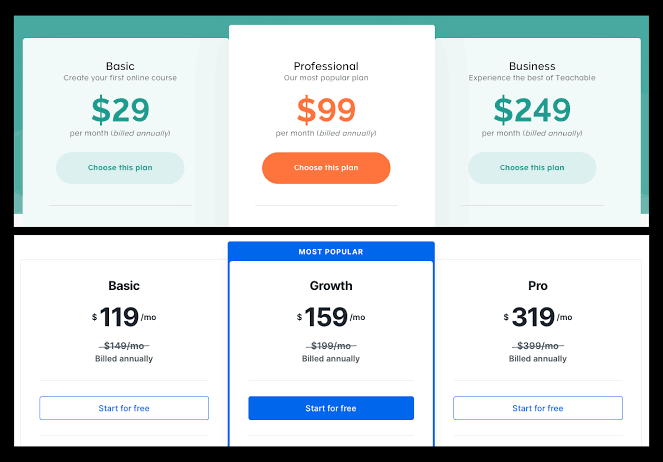 Kajabi is an all-in-one platform that makes it simple for digital product producers to launch and grow a successful online business, and it's not only for online courses.
Kajabi is an all-in-one, user-friendly platform that combines all the features necessary to run a successful online business, allowing you to easily create and sell your own online courses and other digital items. Now go through the kajabi pricing plan wisely.
An Overview of Kajabi's Costs
Pricing is one of the most important aspects of selling digital products and online courses. because the value you derive will play a major role in deciding whether or not to make a purchase.
Does Kajabi provide a free version?
No. Kajabi does not offer a free version of their service. It offers a free trial period of 14 days during which you can try out any of the paid plans without spending a dime. You are free to experiment with whichever strategy you like. 
Kajabi Standard Package
As the entry-level premium plan, this one is a good place to start. And, as should be expected, it has the fewest features of any of the plans.
Some of the most notable benefits of the Basic Plan are as follows:
Three Items Are Included: Kajabi allows you to package your know-how into digital products that can be sold electronically. Online courses, one-on-one coaching sessions, podcasts, weekly or monthly emails, and subscriptions are all possible formats for such offerings. Kajabi makes it simple to create any of them, regardless of whether you're a newcomer to the digital world or a seasoned pro.
Three Pipelines: Kajabi's pre-built pipeline functionality simplifies the creation and upkeep of a sales funnel for your product. Kajabi provides you with a tried and true, user-friendly blueprint for lead generation, product launches, webinar funnels, and sales and marketing channels, so you don't have to be a funnel expert to use it. 
Websites with No Limits: Kajabi's landing page designs are streamlined to help you save time and avoid stress. Quickly and easily create and release your own unique product landing pages with only a few clicks of the mouse using these templates. 
An infinite amount of emails are provided for marketing purposes, which could be crucial to an online course business. Using the Kajabi Email Marketing tool and a variety of attractive themes, you can create an email marketing campaign for your products that is on par with the best in the world.
Contacts: 10,000 A contact is a person whose details you've included into your contact database. One thousand and ten of your contacts have been saved.
The Thousand-Member Club: They are the people who will be using your items if you are a teacher or community administrator.
Site No. 1: If you want your business to be taken seriously in the digital world, you need a website. A website allows you to show off your products, share your writing, and inform people about your services all in one convenient location. 
There is one Administrator account: Those with administrator privileges on your Kajabi site can make new pages and goods, organise users, and perform other tasks essential to getting your site up and running. All other necessary administrative duties for your Kajabi site can also be carried out by Admin users.
If you are confident, however, that you do not require this, you should proceed with the primary strategy. Upgrade to a more premium package as your success warrants it.